SMART GLASS: for automated wireless Transfer of Liquids in the winery
Using patented sensors based on Impedance Spectroscopy and able to differentiate various liquids, Smart Glass is used in line when racking of must, wine, or pushing leftover wines in lines with water.
This ecosystem detects subtle changes in liquids and uses this information to trigger the pump through a wireless network.

How it works
Racking
The sensor module measures the electrical signature of the liquid and evaluates the deformation of the signal due to liquid modification (for example: lees, water,..).
Terminating racking automatically
Smart Glass has five programme thresholds, shown by five LEDs: 20,40,60,80 and 100%

The user chooses the treshold for each operation. For example, the device can be programmed to stop the racking when there is 20% lees in the wine, or stop pumping when the water reached 40% in the wine transfer lines.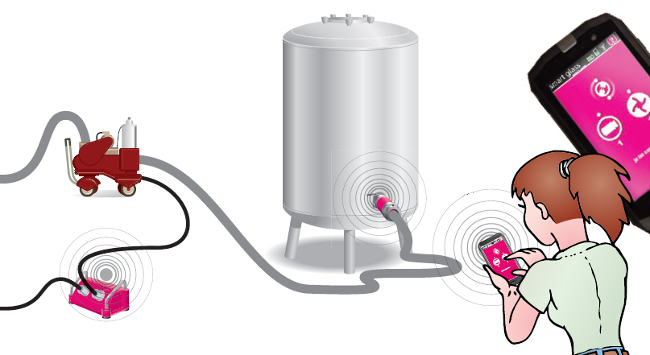 Characteristics
Sensor module
Waterproof IP65
Battery autonomy: 8 hours
Operating temperature: 0 - 50°C
Weight: 6.4 kg
Pilote module
Waterproof IP65
Operating temperature: 0 - 50°C
Weight: 5.4 kg