STAVES: NEKTAR PURE
OPTIMAL RESPECT OF THE FRUIT
French Oak staves with a unique and specific toast
Total respect of the pure expression of the fruit
Minimum contribution of toasted aromas
Build-up of structure, sweetness, freshness and persistency on the palate
Toasting level: Specific
Size: 960 x 47 x 7 mm (37,8" x 1,85" x 0,28")
RECOMMENDATIONS FOR USE
Optimal period for starting contact
White wines: From start of primary fermentation to obtain a well-integrated oak profile
Red Wines: Before malolactic fermentation to obtain a maximum integration of the tannic structure.
Recommended aging Temperature
15°C (60°F) minimum with strict monitoring of microbiological conditions.
Set Up
It is recommended that the staves be attached halfway up the tank, using food-grade binding straps, or to stack them on stainless steel rods.

Recommended Time of contact
Minimum 4 months, to be monitored by tasting
TASTING RESULTS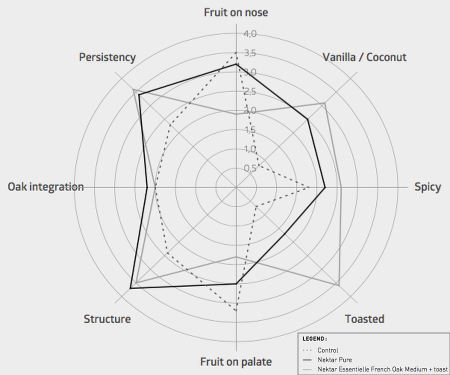 Results of trials carried out on a blend of Merlot / Cabernet Sauvignon (Bordeaux, 2009), using Nektar Pure in Malolactic fermentation with a dose rate of 3 staves/hL, leaving them in contact for 6 months.