STAVES: NEKTAR XL
LARGE DIMENSION STAVE - AGING OVER A LONG PERIOD
Wide, thick French oak staves
Complex aromatic contribution while respecting the fruit
Power, volume and sweetness on the palate
Oak profile respecting the fruit, with elegance and complexity
Toasting level: Light, Medium, Medium Plus
Size: 960 x 65 x 12 mm (37,8" x 2,56" x 0,51")
RECOMMENDATIONS FOR USE
Optimal period for starting contact
White wines: From start of primary fermentation to obtain a well-integrated oak profile and to respect the expression of the fruit.
Red Wines: Before malolactic fermentation to obtain a more complex aromatic profile and maximum integration of the tannic structure.
Recommended aging Temperature
15°C (60°F) minimum with strict monitoring of microbiological conditions.
Set Up
It is recommended that the staves be attached halfway up the tank, using food-grade binding straps, or to stack them on stainless steel rods.

Recommended Time of contact
Minimum 6 months, to be monitored by tasting
TASTING RESULTS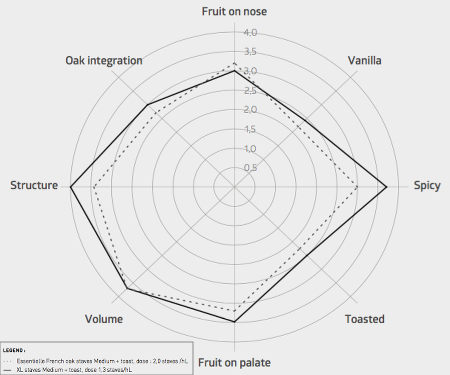 Results of trials carried out on a blend of Tannat / Cabernet Sauvignon / Cabernet Franc (South West France, 2009), using Nektar XL in aging phase with a dose rate of 1,3 staves/hL, leaving them in contact for 7 months.